✓ Free shipping from € 50,00  ✓ Secure payment  ✓ Ready to ship in 24 hours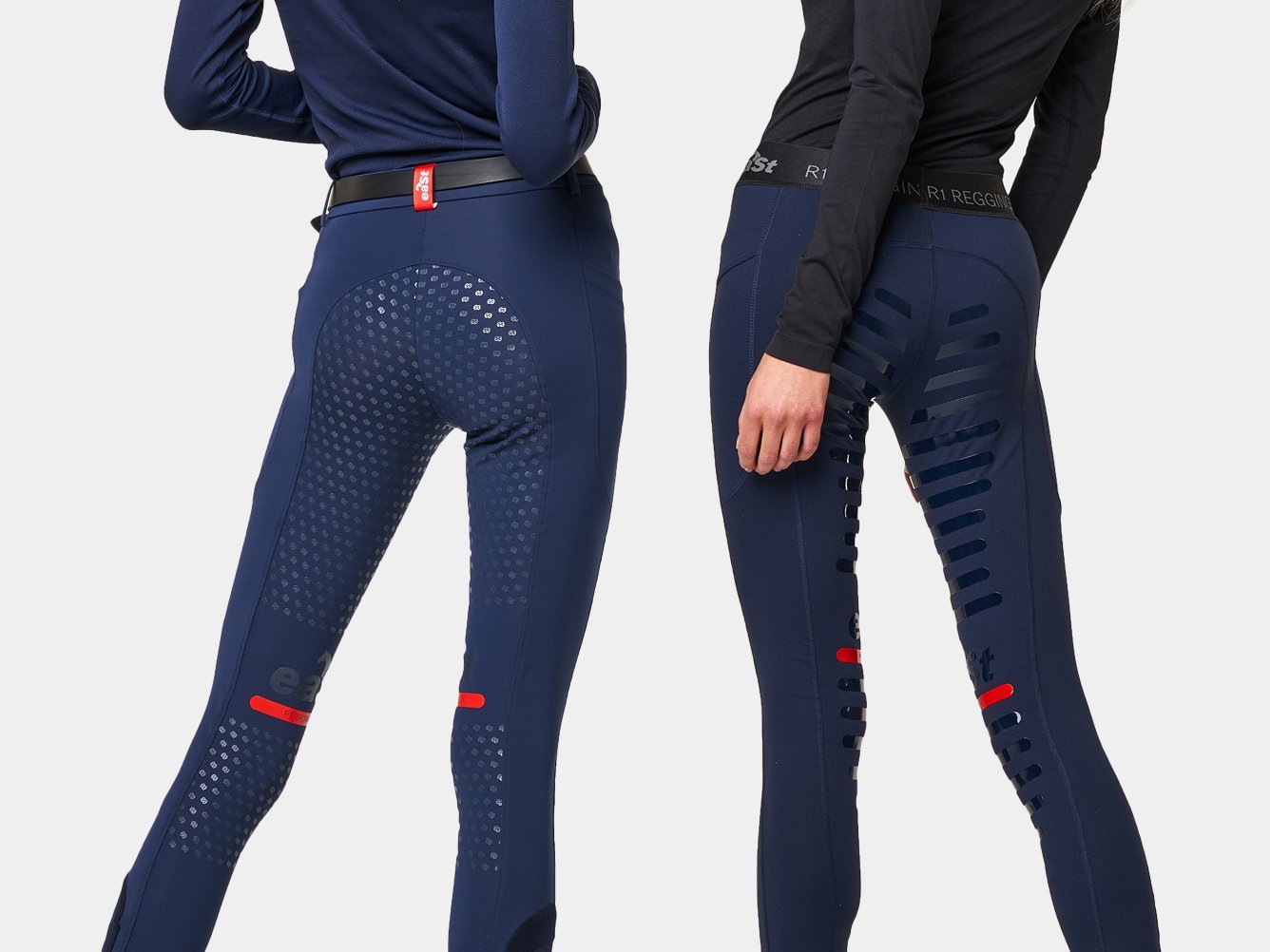 How to know when wearing breeches or ridingleggings, how to make the right decision!
Do you want to look really good when riding and strike gold in terms of quality and function when selecting your trousers? Is your wardrobe full of breeches and riding leggings, but you can't see any major difference in terms of comfort and benefits? People naturally buy their riding wear mainly based on how it looks and their personal taste. Function, quality and longevity, however, are becoming ever more important.
This is why you should take note: our breeches impress not only with their timeless design and a sophisticated fit. We'll also show you clearly which trousers are perfectly suited for what purpose. Not only will you look incredibly good on your horse, but you'll enjoy the perfect riding experience with the right trousers for the occasion!

eaSt REGGINGS® R1 – our flexible, popular all-rounder  
The eaSt REGGINGS® R1 are functional and comfortable riding leggings with a timeless design. They impress with their strengths of flexibility and comfort in combination with an outstanding fit. The silicone half-trim gives you a secure hold in the saddle, without sticking to it. The Dressage version with its full trim is perfectly tailored to the needs of dressage riders.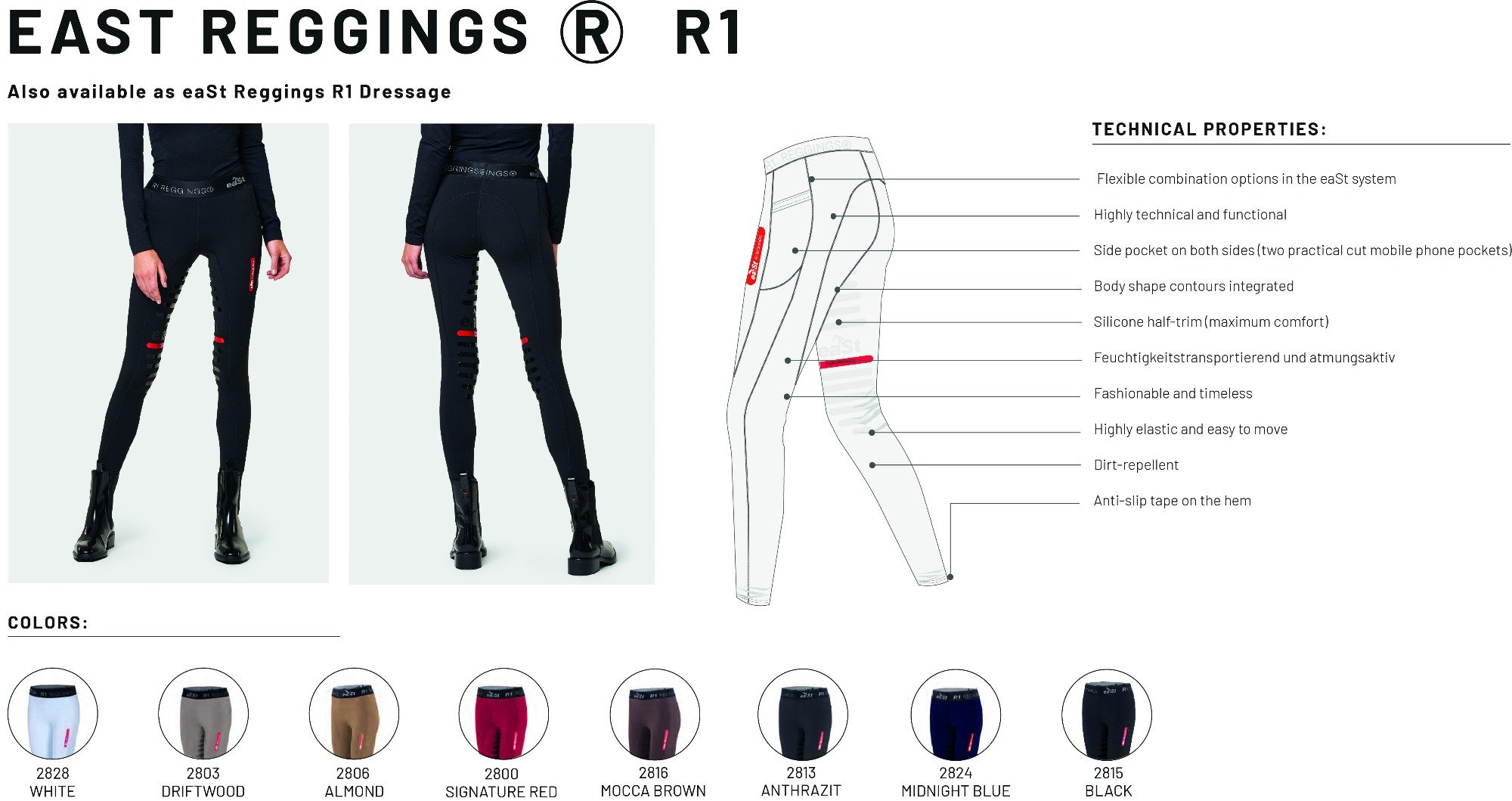 Those looking for uncomplicated and highly flexible trousers, a companion to accompany them in all situations in everyday stable life, will be very happy with our eaSt REGGINGS® R1. The trousers cling to your body like a second skin. Long rides, a jumping or dressage session, ground work or even extended walks with the horse – these are trousers for all occasions. Thanks to their material and lightness, they are also ideal as training pants for the gym or for jogging and hiking. You will always look good in our REGGINGS® R1, which are highly elastic and easy to move in. The highly flexible material is very breathable and excellent at wicking moisture, ensuring that wearing the trousers never feels unpleasant. The quality of the fabric and the workmanship are particularly long-lasting, hard-wearing and durable, allowing you to enjoy these trousers for a long time to come.

Versatile and easy to combine, they naturally go perfectly with the other products from the eaSt brand world. The R1 are perfect for warm to moderate temperatures. For chilly days and the colder months, we recommend upgrading to the R1 Mid Season or R1 Winter, depending on how you feel.
eaSt R2 Performance breeches – developed for the highest demands and maximum sporting performance

Our eaSt R2 Performance are breeches that support you perfectly in all tough riding challenges thanks to their design and properties. With maximum elasticity and functionality, the high-quality Italian material combines comfort and elegance. The perfect fit and comfortable cut guarantee breeches that will not only allow you to cut a sporty and elegant figure on the horse.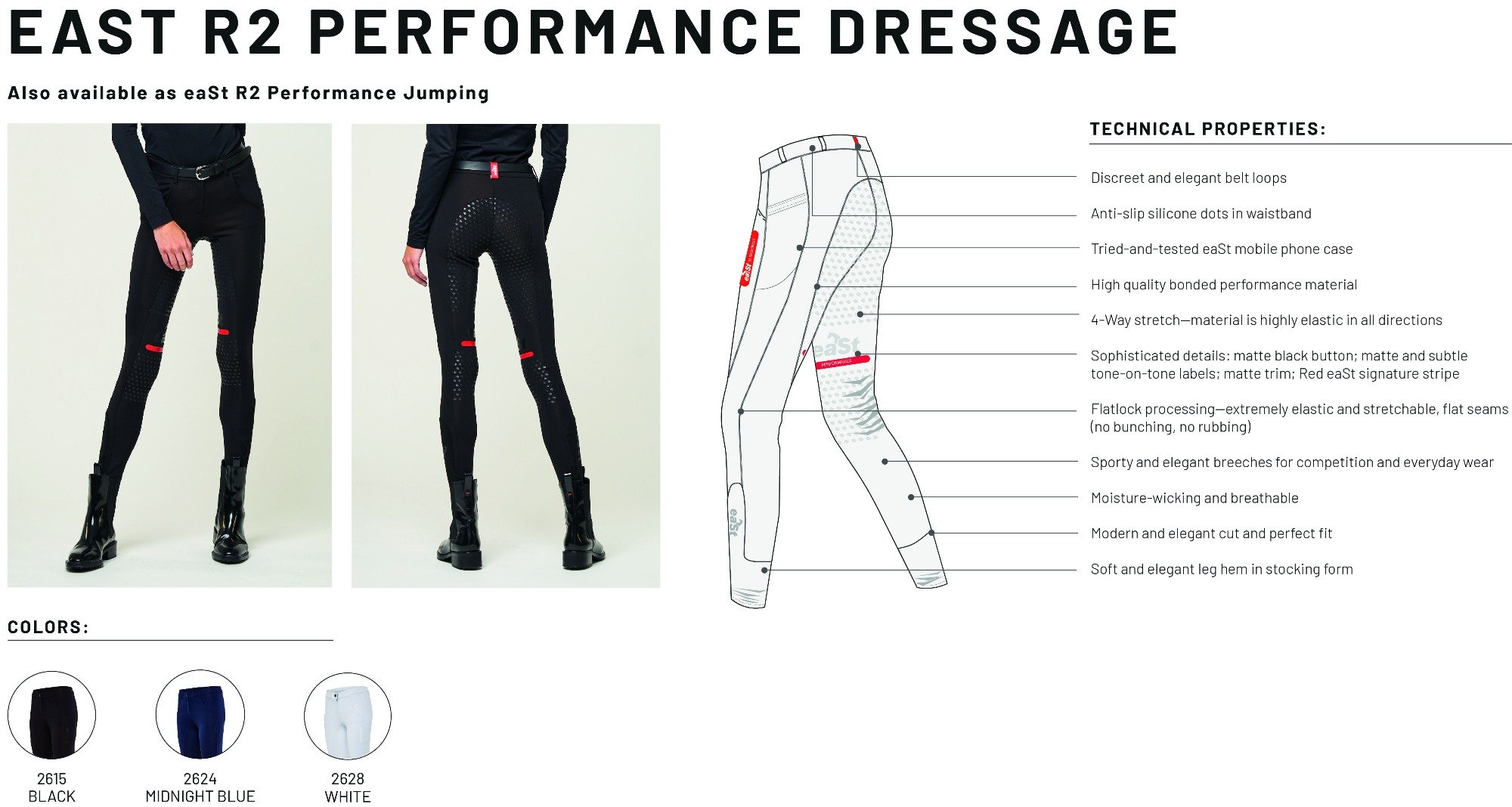 When developing the material composition for these breeches, attention was paid to flexibility and comfort even under enormous sporting demands. This has resulted in a fit with maximum comfort. The flatlock seams prevent uncomfortable pressure points or even rubbing. Stylish details such as a matte black button, matte and subtle tone-on-tone labels and a discreet trim look particularly timeless and elegant. The high-quality bonded performance material ensures a professional appearance during any sporting activity while supporting your performance on the horse. Breeches in which you are guaranteed to feel good, even in competitions. The material properties are also characterised by maximum moisture wicking and breathability, allowing you to feel completely comfortable in these trousers even when giving your all in your sport. The worked material is naturally also particularly long-lasting and durable and retains its function even with frequent washing.
With the two model variations Jumping (knee trim) and Dressage (full trim), we offer the professional rider or ambitious amateur rider the full selection for their respective discipline. Versatile and easy to combine, they, like our REGGINGS® R1, naturally go perfectly with the other products from the eaSt brand world. 
R1 and R2 – two models support you perfectly in your activities on the horse
To help you make the right decision and wear the right trousers in all your riding challenges, we have the following recommendation for you:
If you are looking for flexible, comfortable riding leggings that are functional and elastic and allow you to look good in any situation at the stables, your choice should be our all-rounders, the REGGINGS® R1.
If, however, you are looking for high-quality and comfortable breeches that support you perfectly, even when giving your maximum performance, and that offer you an irreplaceable feel, you should opt for our R2 Performance breeches. 
We aim for you to feel perfectly dressed on your horse and at the stable in any situation!