✓ Free shipping from € 50,00  ✓ Secure payment  ✓ Ready to ship in 24 hours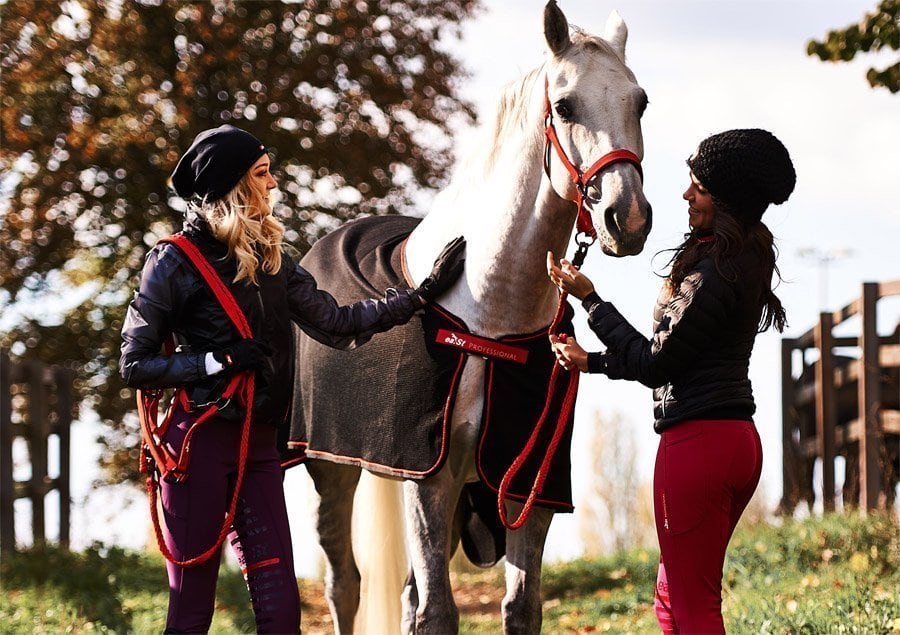 Shorter days, longer coat, colder morning hours: winter sneaks slowly but inexorably. To ensure that riders stay in a good mood during the cold period of the year, it is now time to "dress warmly". After all, there is no wrong weather, just the wrong clothes.
During this summer the riding leggings reggings®, the "most comfortable riding breeches in the world", as we call them, where the number one garment in the saddle. This winter a viable alternative need to be found. Because who wants to exchange the "revolution in the saddle" against a multilayer outfit or a thermos-optic?
But for those of you who are already mourning the comfy, fashionable reggings® look, there is good news: The reggings® are good to go for the winter!
And that we had to test.
Feel
Real reggings® fans know: the special material makes all the difference. It ensures the perfect fit with an ultimate freedom of movement and that is exactly what characterizes the unique reggings® feeling in the saddle. In this point the winter version - thank God – fulfils the high standard set by the summer edition. However due to the fluffy roughened lining the material feels much thicker. The lining adapts pleasantly to the skin and ensures sufficient warming.
Look
With great winter tones, such as a frosty grey, flattering blue or fiery red, the winter reggings® create hip accents in the dreary winter blues. We love a cool look in the saddle and give extra points for this fashionable winter interpretation.
Experience
Rides in the snow or through the mud? No problem for the fashion must-have of this winter. The outer material of the winter reggings® is characterized by its extreme dirt and water repellent texture. Annoying hair after clipping or mud splashes can be easily wiped off. No more wet surprises if it starts raining on the trail! During the winter period the rider stays warm, stylish and clean at the barn.
More
Cold kidneys, a stiff back? Especially in winter showing involuntary bare skin can become uncomfortably cold. The winter reggings® are designed with an extra high waist cut. The cut is not only very comfortable, it also keeps you warm when getting on the horse or while sitting at the edge of the riding arena. Extra points for this plus of heath!
Conclusion
Our conclusion: thanks to ea.St riding wear, you will also be well and warmly styled through the winter season. Instead of an unfavourable layered look or a weird thermos-style outfit, the winter version of the reggings® convinces with absolute comfort, fashionable highlights and all the extras of the reggings® we loved in the summer. The first snow is welcome, we are ready!