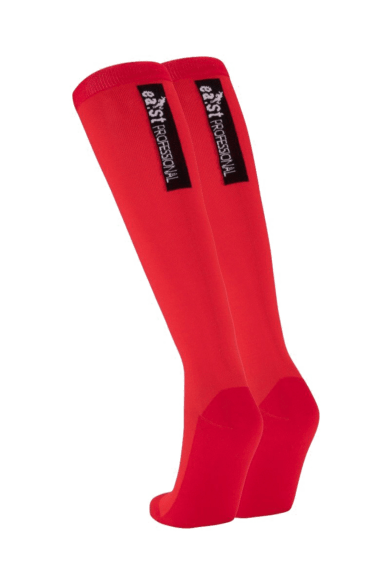 With our eaSt Riding Socks Professional you can finalize your eaSt Outfit perfectly. They represent the perfect accessory in our eaSt System.
The highly elastic, breathable stretch material is comfortable to wear and guarantees a great fit without slipping or constricting the leg.
The half-high socks also support during the ride without being noticed by the rider. Their smooth material without seams or reinforcements makes them extremely comfortable to wear while riding or walking. Their extra thin fabric also guarantees easy entry into riding boots or chaps without being pressed or rubbed.
Due to our variety of colors and constantly new trend colours, these socks are perfect for fashionable play. Why not even make a color statement on "more courageous" days. Why not buying a pair of colourful socks to combine with, rather than always buying a second pair of coloured and expensive breeches. Sustainability starts with the little things in life.
Material:
Features:
Numerous possible combinations using the eaSt System
Highly technical and functional
Highly elastic material
Moisture wicking and breathable
Fashionable and timeless
Super-soft, even for sensitive feet
Sportsline theme elements
Extremely adaptable
Made of sporty functional nylon material
Extremely stretchy due to 3D chain technology (fits from size 36 to 45)
Details