✓ Free shipping from € 50,00  ✓ Secure payment  ✓ Ready to ship in 24 hours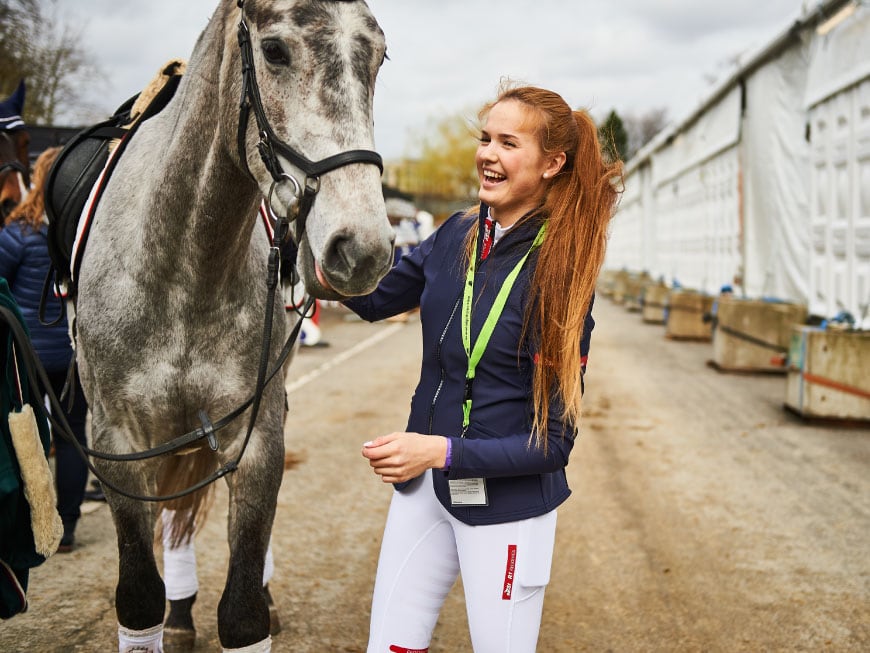 "No uncomfortable buttons, no zip to get jammed, no annoying belt loops" - this is the claim made by the reggings® advertisers. The so-called "breeches revolution" claims to fit as comfortably as a second skin and look as stylish as designer pants. And it is a claim that means reggings® are creating waves in riding arenas, the stable lane and show grounds alike. More and more riders are leaving their old breeches in the wardrobe and switching to these comfortable riding leggings that combine ease of movement with a cool new look.
But does this sought-after garment really deliver on its promises?

I tested it for myself!
Price and packaging
reggings® are available in blue, black, grey/light brown, white and also limited editions. In addition to the sleek standard model, there are also "Winter reggings®," a warmer edition for cold-blooded animals like me to use on chilly winter days – but I didn't test these this time (I will soon).
The first thing I like about the standard reggings® is not the choice of colours but the price: 89 Euros / £87 have so far only been enough to buy a hat and gloves in specialist shops, but now you can get a whole pair of breeches for the same price – a convincing argument in favour of reggings®, especially if your horse has taken a toll on your wallet.
reggings® come in a stylish zip packet without too many bells and whistles. The initial feel is instantly one of lovely soft fabric and on first viewing the striking silicon grip makes the reggings® stand out.
Easy to put on and comfortable to wear
They're on – very quickly, thanks to the stretch fabric that really does make for ease of movement – and I can't feel that pinching in the stomach, knees or calves that we all know and love from so many other breeches. The reggings® actually do feel like a second skin and – importantly – you don't feel as if you're wearing jogging pants, you feel sporty and chic. More plus points for comfort and style!
Smartphone pockets
Anyone wanting to stay in touch from the saddle, or hoping to hunt down the next Instagram Story from the back of their horse will find that reggings® have yet another advantage: two practical pockets that will store any size of smartphone safely, without them getting in your way as you ride. So all you mobile nerds, tech freaks, Snapchat obsessives and phone addicts will always have your precious mobile phone to hand, without it sticking out or needing to be retrieved from a dodgy bum bag. With reggings®, your mobile phone is always at the ready, tucked away comfortably and stylishly
In all weathers.
Cards on the table – the field trial
But now for the most important part of the test, because however good the trousers look, however
comfortable they are, and however happy I am that I am still connected to my smartphone, the most important thing is that they perform well in the field.
The snug-fitting ankle band is made from the same fabric as the rest of the reggings®, so that it doesn't stick out and fits comfortably into my chaps without rubbing,despite my winter riding socks. The discreet rubber insert on the band also helps you achieve a good seat – so it's up and onto the horse.
My first reaction: the grip does what it said it would! Something that's more of a decoration on other breechess delivers on its promises in the Reggings®, providing excellent grip on the saddle flaps. This is truly a new experience in the saddle for me, and one I could – and would certainly like – to get used to!
Apart from the grip, I'm also impressed during the ride with how comfortable the Reggings® are – nothing chafes or pinches and I can move with absolute freedom, even at a gallop or over jumps, without anything slipping (an important point for anyone concerned about involuntarily revealing their behind).
My conclusion, once I've dismounted: reggings® really do deliver on the hype! A great pair of trousers that doesn't just provide real comfort when you're training, in the stable or doing routine chores, it also provides a sporty look – a far cry from explosions of rhinestones or crude logos.
I particularly like the Reggings' style, with the subtle red logo strip on the side, which is picked up in the grip. They'll help us spot our Reggings® team riders in stables or at tournaments in future...

Another little tip for anyone, like me, who rides a white horse: the material reggings® are made from has a special dirt-repellent quality, meaning that those annoying little white hairs and dust layers can be wiped away quickly with a towel.
Tester ID – about the author
On test: eaSt reggings® (standard model)
Tested by: Hanna Katrin Stephan

Type of rider: Showjumper

Home stable: LG Stables, Lawrence Greene